About Chaldea ​
Chaldea is a cross-platform material planning tool for Fate/Grand Order, supporting Android, iOS, Windows, macOS, Linux and Web. Chaldea will help masters plan their servants, events and materials.
Go to Laplace for details about battle simulator.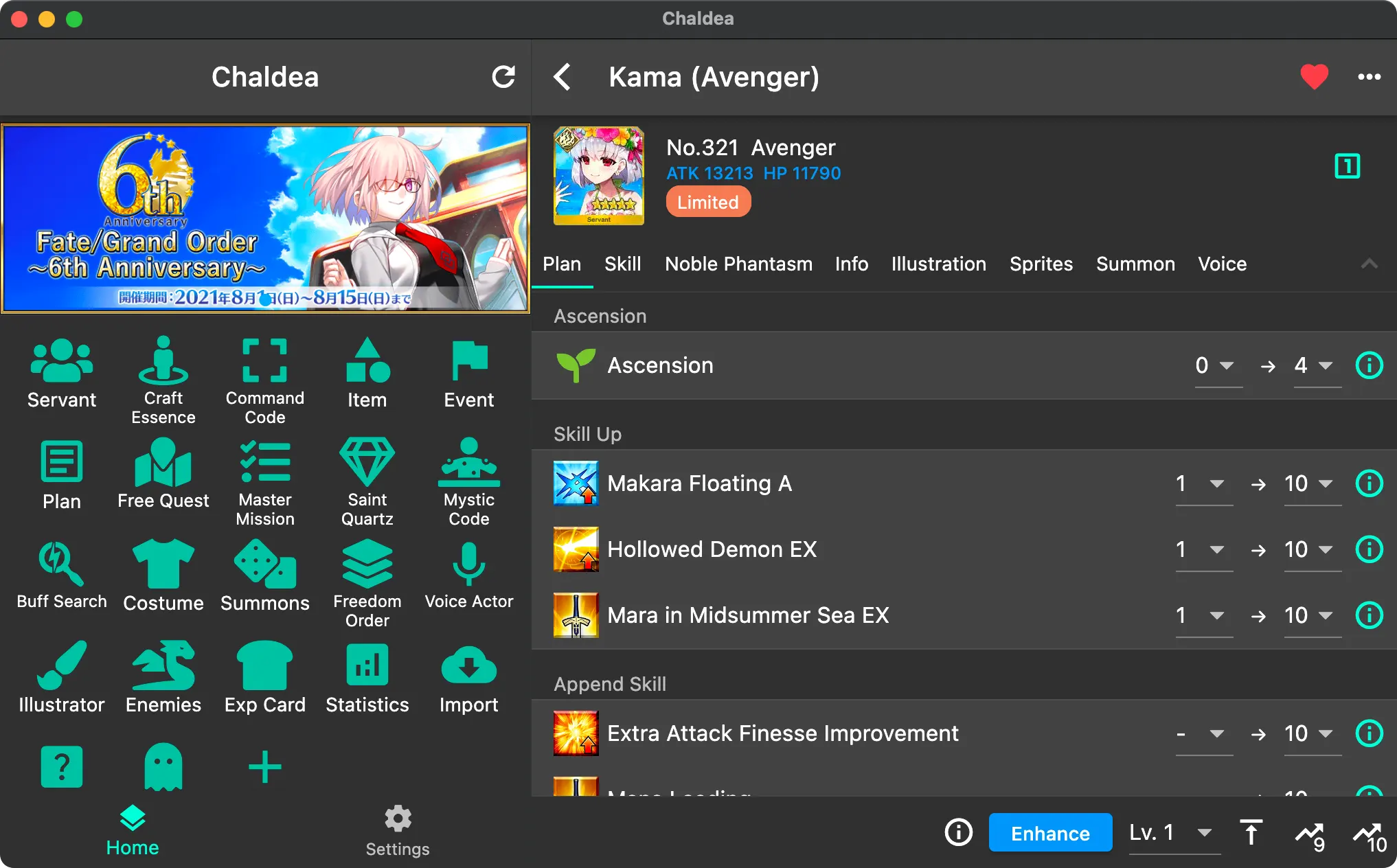 Chaldea Preview
WARNING
I have stopped updating the dataset for V1.x, both app and dataset
V2 is already released. For more information and breaking changes, check V2 release
TIP
The document may not be up to date, some contents are still for v1.x, please take care when reading docs.
Features ​
Cross platform: Android, iOS, Windows, macOS, Linux and Web
Multi-language: Simplified Chinese, Traditional Chinese, English, Japanese and Korean
Detailed Game Data: Servant, CE, Command Code, Mystic Code and so on
Material Planning

Servant rank up: ascension, active skill, append skill, costume, palingenesis, fou-kun and servant coin
Event plan: limited event, main story and exchange ticket
Material/Item management, find the quests with best drop rate

Free Quest Solver

Get the best quest farming solution on item demands
Compare the efficiency of each quest with custom item weight
Support Item+Bond+EXP planning
Support Master Mission/Weekly Mission/Event Mission/Custom Mission: custom mission target

Summon details and Summon Simulator
SQ Planning: Currently support predictable parts of SQs/tickets/fruits
Import Data

Recognition for item/active skill/append skill screenshots(Improved performance by doorholez)
Parsing all game data by sniffing the client's login https traffic, don't need manual input. Support NA/JP/CN/TW.

Others

EXP card cost calculator
Statistics on item demands, consumed items and servant collection
Fate/Freedom Order: 2021 April Fool's mini game
Illustrator and CV list
Data Source ​
Mooncell - The Chinese wiki
icyalala@NGA - FFO data
The UI and functions of the app is inspired from